"Dear Mr. Clark

Long time no see. I'm Madoka. Japan is getting very cold. Pussy Cap is also big activity. I have traveled to Miyajima this weekend with Pussy Cap. I attach the photograph of that time. Pussy Cap is very warm and feeling of wearing is the best. Thank you again. Sincerely, Madoka"

Madoka in Japan

"Oh My God Tom, it's a work of art - I feel like I'm stealing from you. My wife absolutely loves it, and was quite surprised as well. It's 20 degrees and snowing here so other than bed she hasn't taken it off at all." 

Michael in Utah

"I got my cap on Friday, and wanted to drop a line and thank you for such a beautiful piece. The colors are vibrant and the craftmanship is wonderful. The smell from the box reminded me of my native Hawaii, exotic, earthy and not unlike our sandalwood. Thanks again for everything."

Joe in Maryland

What people are saying about their Pussy Caps...

"The cap arrived today....VERY NICE!  I really like it (alot), good choice of colors, and ooh it's so soft.  I have a feline at home that has already attempted to steal it away from me - will have to keep my cap under lock and key. Seriously the cap is spendid - thank you again."

Craig in Indiana

"I am almost speechless about the cap.  It is so soft.  And the colors make me want to just eat it up!  I can't believe how beautiful they are.  I love the spaciousness of it along with the softness.  Hmmmm, lots of folding options...  And yes, it does have a great "squish" factor. Thank you so much.  I can't believe this all happened so quickly. I am so impressed with how you took this from the idea to the reality.  It is simply wonderful. The cap is more beautiful than I had imagined."

C.T. in California

"...I totally love my new cap. T-O-T-A-L-L-Y.  L-O-V-E.  I-T.  It's absolutely amazing and soooo beautiful I actually feel a photograph coming on.  Sometime.  Soon.  I hope. You're an absolute genius Tom!  Seriously. This cap was so worth the seemingly endless but actually short wait. Thank you so much for all the creativity, thought and work.  You're the best!"

Frank  in New York

"Finally, after a couple of days of anticipation, I got time to try on my Pussy Cap, admire its beauty, and feel its softness. I love it!  The craftsmanship is superb, and the texture and colors have me torn between wanting to play with it, wear it, and display it as an artwork, which it truly is."

Mike in Arkansas

"After living in Las Vegas for a year I can finally say that I hit it big on a chance I took!! Quite simply, this burgundy Pussy Cap is the most beautiful article of clothing I have ever owned. I love it! It fits like a glove and looks like it should have cost a million. The first evening the temperatures here in Las Vegas go below 90 my burgundy Pussy Cap and I are hitting the town. Thank you for this wonderful, beautiful creation of yours. I will wear it with pride and joy."

Mitch in Las Vegas

"THE CAPS ARRIVED TODAY!!!!!  Oh, my gosh, Tom: you have outdone yourself again. They are just really fine. FINE. FINE!!! I love them both. . . so much! I can't wait for the girls to see them. You are a true artist. So gifted."

DeAnn in California

"Thanks again Tom, for providing such a boost to my feelings of safety, warmth, and security.  I believe I can actually feel the love, and healing and caring when I wear your beautiful caps."

Steve in Minnesota

"I came home from work yesterday and nestled between my back door and the storm door was a package.  I opened it and there under the tissue paper lay my Elements Pussy Cap.  It is SOOOOOOOOOO beautiful.  I really haven't been able to find words.  I nearly cried.  I had reservations about letting you (a total stranger) in on any part of what I feel is an intimate part of my spirituality, but there was something that said I could take that leap of faith. Again, Tom, thank you for being a medium through which I can express myself and for expressing yourself through me."

Todd in Tennessee

"I got my cap today - it is really nice, soft and the colors are awesome. I wore it to work today, got nothing but compliments on it.  Thanks!  I love the colors, how light it feels and how warm my ears are.  I wore my turquoise turtleneck, brown belt and work boots and tight black Carhart double knee work jeans. It tied in fabulously with the black, rust and teal colors of my Pussy Cap. Who says you can't be fashionable selling pansies and loading heavy bags of dirt into trunks?" 

Ken in Washington

"The Pussy Caps came and are exquisite. Thanks again for creating such incredibly beautiful caps." 

Kathy in Florida

"Just wanted to let you know that I received my Pussy Cap and that I love it. It is so much softer than I could imagine. Looks and feels great. So, I'm a pleased customer. Thanks a lot." 

Pekka in Finland

"My Pussy Cap arrived on Friday. It is wonderful!  I hardly took it off this weekend.  It is sooooo soft and warm and beautiful!  I can understand why they have been so successful for you, they have an essence that translates your magic." 

Maury in Oregon

"Ah Tom.  You have done it again. And again. Two new beautiful Pussy Caps to decorate myself with, love, enjoy, and wear to my heart's content.  Thank you for your thoughtful skill, your artistry, and your labor of love.  Your Pussy Caps are truly remarkable!"

CT in California

"...Next came the prized Mahogany - I plopped it on and Kelly

literally gasped with 'that's the best cap I've ever seen on you!', I have to say it is the most perfect cap for me; while the colors blend with my own it still stands out somehow. Tom, you have a great eye, it is THE cap for me! I have officially become part of the Pussy Cap posse."

Barbara in San Francisco

"The cap is great. The fit is perfect. I couldn't be happier." 

Clint in Boston

"It's perfect!  The colors are exactly what I was looking for to wear to early baseball games in February and March when it's still pretty cold in South Carolina esp. for the early night games.  I know I'll enjoy it during our coldest months.  We don't have a tremendous amount of cold weather here but when we do the cap you made for me will keep me warm and toasty!  I love the combination of the silk and wool [alpaca] fibers.  The cap is extremely soft and extremely warm.  Thanks so much." 

Darryl in South Carolina

"I LOVE it, it's so soft, comfy and warm!!!  Thank you!" 

Jan in Utah

"I have worn my Pussy Cap out and everyone wants to touch it.  Lots of compliments on the colour combination and the out of this world softness." 

Brigitte in California

"OHHHHHHMYYYYYY! What an amazing cap! It feels amazing, it looks amazing, it's an amazing color, Whoa! I wish I had a unibodysuit in YAK! There is something really nubby and cozy about it! THANK YOU sooo much, pussyrific! A pussy tail out of YAK would be amazing, yes? Hmmmmmmm......xoxoxox"

BP in California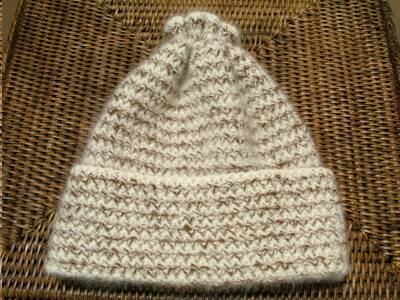 I fucking love this cap! It's perfect, literally everything about it is perfect. I feel like it was custom made for me. Thank you so much. These articles of clothing that you make transcend the ordinary, they have a spiritual quality to them. I'll be back, you've got a customer for life! 

Michael in Chicago